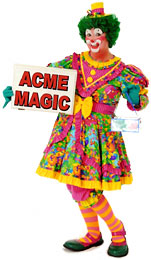 Greenie the Clown's colorful, whimsical character has performed at numerous grand openings, parades, school, church and civic events.

Clowny magical illusions and sight gags provide laughter and joy for your school audience and faculty.

Her gentle caring clown character charms even the youngest child and her crazy silly clown pranks appeal to the older children and adults.

As a professional clown she has performed for many years and has won top awards in clown make up/costume and skits.

Greenie the Clown offers many types of clown shows, suitable for every event and occasion...and any size, large or small! Magic, funny clown props and hilarious dialogue are combined along with audience participation to make a memorable event.
Website maintained by :