Greenie the Clown's colorful, whimsical character has performed at numerous Grand Openings, parades, school, church and civic events. She has performed at numerous company events making it a truly fun time for the whole family and has appeared at almost as many birthday parties as cake and ice cream.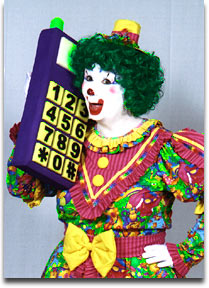 Greenie is also involved with youth retreats and vacation bible school programs.

Greenie The Clown offers a wide range of fun and exciting activities for your memorable event.
Birthday Parties
Grand Openings
Clown Walk Arounds - meet & greet / puppets / sight gags
Clown Shows - audience participation adds to the fun
Professional Face Painting
Christian Clown Shows